The Range
Rates & Fees
Lane Rental (Sunday-Friday): $15
Guest Fee (Sunday-Friday): $10
Lane Rental (Saturday): $20
Guest Fee (Saturday): $15
Military and Law Enforcement Officer Lane (Any day) $10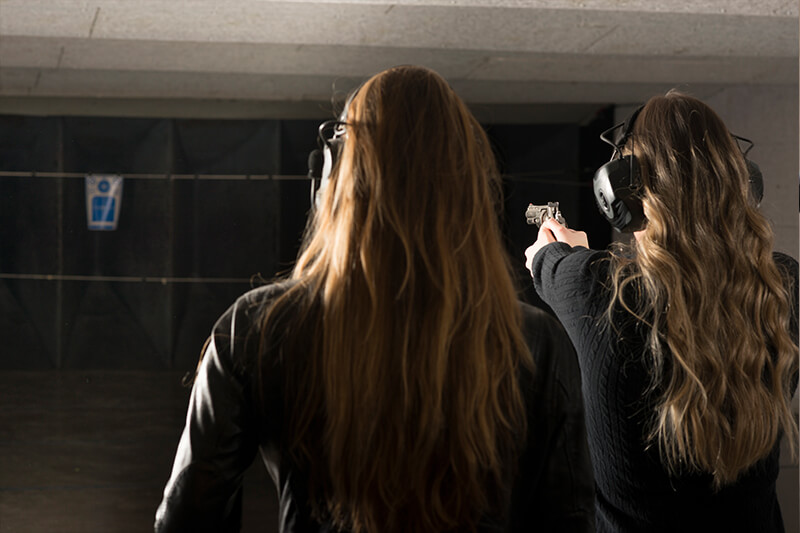 YOU MUST COME WITH YOUR OWN GUN OR WITH A FRIEND. SOLO SHOOTERS WILL NOT BE RENTED FIREARMS, UNLESS THEY OWN A FIREARM.
Bellevue Indoor Range is a public range for pistol caliber shooting. Membership is only required for shooting rifles chambered in .223 Remington to .308 Winchester
The range offers 16 public lanes at 50', 8 lanes at 75' in the Member's Bay, 8 premium firing booths, and an open training bay for movement and classes. All firing booths are equipped with lighting and an automatic target retrieval system.
The range is connected to our retail store, Wade's Eastside Guns which offers a full line of rifles, shotguns, handguns, optics, ammo, holsters and other accessories. The retail shop is open from 10am-7pm Monday to Saturday.

Proper Identification
U.S./Canadian Identification or passport book
Rentals
Ear protection is included with your lane fee. Safety glasses are available for $4.95. Personal protection equipment is available for sale.
Inexperienced groups will be required to do a safety orientation. This $30, 15-minute safety briefing covers up to 4 shooters, and will prepare the group by going over safety rules, proper manipulation of the firearms, and how to use the sights. A Range Safety Officer will then accompany the group through their first rounds. This is a quick and easy way to get comfortable with the range, and ensure a safe and fun trip.
Inexperience shooters will be taken through a mandatory new shooter safety orientation. A Range Safety Officer will prepare the group by explaining safety rules, firearm operations, safety manipulation, and shooting fundamentals.
Finally, the Range Safety Officer will then accompany the group through their initial strings of fire. The new shooter safety orientation is also available to anyone wanting a quick refresher. The 15-minute process costs $30 and can cover up to 4 individuals.
Want to have the range to yourself? Come Monday-Friday between 10am-4pm when the range isn't as busy!
At the range desk
Need shooting supplies? RANGE AMMO for all common calibers is available at the range desk. We also have a diverse selection of targets: circles, government training silhouettes, reactive paper and zombies, as well as target stickers.
Don't have your own gun or want to try something new? Check out our RENTALS or ask a Range Officer for guidance.
Regular patrons might consider MEMBERSHIP at Bellevue Indoor Range, where members enjoy special privileges. Sign up at the Range Desk in about 5 minutes.